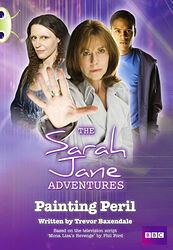 Note: One of four Sarah Jane Adventures books published as part of the "Bug Club" schools literacy programme. Each of these books is a 24-page photo-illustrated novelisation based on a particular SJA Season 3 episode — this one was based on Mona Lisa's Revenge, while the other 3 books were Judoon Afternoon (based on Prisoner of the Judoon), The Haunted House (based on The Eternity Trap) and Blathereen Dream (based on The Gift). All four books are aimed at schoolchildren in Year 2 (i.e. aged 6-7). Four Doctor Who episodes received a similar treatment in 2011 (although aimed at an older audience): The Eleventh Hour, The Time of Angels, Victory of the Daleks and The Lodger.
Cover blurb:
Life on Earth can be an adventure too!
Clyde, Luke and Rani go to an art gallery to see the most famous painting in the world — the Mona Lisa. But when they get there, strange things start to happen. This is one school trip they will never forget!
"It feels like you're actually in the story when you read this!" Simon