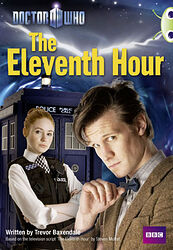 Note: One of 4 Doctor Who books published as part of the "Bug Club" schools literacy programme. This one is a 64-page novelisation written for Year 6 pupils (i.e. 10-11 years old) and obviously based on Matt Smith's debut episode The Eleventh Hour, while the others are based on The Time of Angels/Flesh and Stone, Victory of the Daleks and The Lodger. 4 similar Sarah Jane Adventures books (though aimed at an even younger audience) were released in 2010: Judoon Afternoon, The Haunted House, Painting Peril and Blathereen Dream.
Cover blurb:
"This book is great because I didn't want to put it down!" Lauren
The countdown begins ...
With the TARDIS wrecked and the sonic screwdriver destroyed, the new Doctor has just twenty minutes to save the world ... but he has a young woman called Amy Pond to help him.