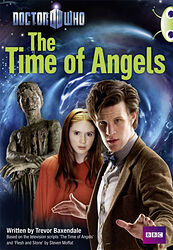 Note: One of 4 Doctor Who books published as part of the "Bug Club" schools literacy programme. This one is a 64-page novelisation written for Year 6 pupils (i.e. 10-11 years old) and obviously based on the 2010 2-parter The Time of Angels/Flesh and Stone, while the others are based on The Eleventh Hour, Victory of the Daleks and The Lodger. 4 similar Sarah Jane Adventures books (though aimed at an even younger audience) were released in 2010: Judoon Afternoon, The Haunted House, Painting Peril and Blathereen Dream.
Cover blurb:
The Angels are Coming...
The Doctor's help is needed by his old friend River Song. Together with his companion, Amy Pond, they must fight the Weeping Angels — stone statues known to be the deadliest beings in the universe!