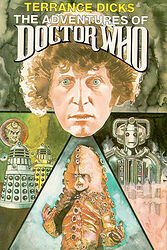 By:
Terrance Dicks
Rating:
9 (3 votes) Vote here
Review:
None yet Add a review
Released:
October 1979

Publisher:
Nelson Doubleday
ISBN:
9997559320
Format:
hardback
Owned:
Buy:

| | | |
| --- | --- | --- |
| | | (Not currently available) |

| | | |
| --- | --- | --- |
| | | (Not currently available) |

| | | |
| --- | --- | --- |
| | | (Not currently available) |
Note: Compilation of three Target novelisations in one hardback volume, only available to Doubleday book club members. Followed by the similar volume The Further Adventures of Doctor Who.
Cover blurb:
He's tall and thin, wears a motley array of garments that includes an incredibly long scarf and a battered wide-brimmed hat — and he's a centuries-old Time Lord. Untold years ago he left his own people to roam through Space and Time, fighting evil, righting wrongs, and trying to satisfy a deep-rooted curiosity.
Now, the resourceful adventurer who has long thrilled British television viewers is winning legions of fans in the U.S.A., and this volume captures all the excitement, humor and imagination of that popular TV series. It contains a trio of action-packed novelisations:
Doctor Who and the Genesis of the Daleks — The war between the Thals and the Kaleds had been raging for a thousand years. Then, suddenly, one side gained an advantage: machine creatures called Daleks, programmed to kill on command... grim weapons which would insure the annihilation of any race — or individual — that opposed them. And the Doctor had traveled through centuries to oppose them.
Doctor Who and the Revenge of the Cybermen — A mysterious plague had wiped out almost everyone aboard Space Beacon Nerva. The only survivors were the Beacon's commander, two of his crew, and a civilian professor. The professor was there, ostensibly, to study a new asteroid; but before long it became clear to the Doctor that the man's interest was far from scholarly. For the space fragment proved to be the remains of Voga — a planet of gold destroyed long ago in the war against the dreaded Cybermen.
Doctor Who and the Loch Ness Monster — The recent destruction of oil rigs in the North Sea had brought Brigadier Alastair Lethbridge-Stewart to a small Scottish village on the shores of Loch Ness. But when his investigation failed to shed any light on the matter, he called for the Doctor's help - and the Doctor uncovered the bizarre truth. The Zygons, alien beings who had been shipwrecked on Earth millenia ago, were trying to take over the planet... and the use of a cyborgized, dinosaurlike creature from their home world was only part of their diabolical plan.