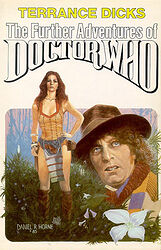 Note: Compilation of three Target novelisations in one hardback volume, only available to Doubleday book club members. Follow-up to the similar volume The Adventures of Doctor Who.
Cover blurb:
The Doctor, a Time Lord from the planet Gallifrey, is a being with a very unTime-Lordish tendency to get involved with other species, especially humans. Join him on three exciting adventures, based on the highly popular BBC-TV series.
Doctor Who and the Deadly Assassin — Summoned home to Gallifrey, the Doctor is caught in a battle of minds that begins with assassination and could end with the destruction of Gallifrey!
Doctor Who and the Face of Evil — The Time Lord lands on a world run by a mad and mysterious god — a god with the Doctor's face!
Doctor Who and the Robots of Death — On a desert world, the Doctor and his new companion, Leela, must find a cunning killer or fall victim to the robot destroyers.