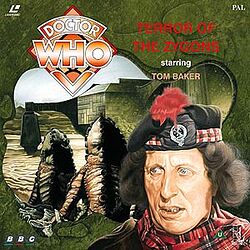 Edition:
UK (Laserdisc)
Released:
December 1997

Publisher:
Encore
Format:
1 x Laserdisc
Owned:
Buy:
Note: Last of seven Doctor Who stories released in laserdisc format during the 80s and 90s.
Cover blurb:
Shape-changing aliens with strange organic technology, a massive, invulnerable, cyborg creature which inhabits the waters of Loch Ness, and a final terrifying climax in which the entire human race is threatened with destruction all combine to make Terror of the Zygons one of the most tense and thrilling adventures from the golden age of Doctor Who.
When the Doctor (played by Tom Baker) and his travelling companions, Sarah and Harry (Elisabeth Sladen and Ian Marter), arrive in Scotland at the request of his old friend the Brigadier (Nicholas Courtney), they find an uneasy truce in place between the locals and the employees of a major oil company. Three of the company's offshore oil rigs have recently vanished under mysterious circumstances, resulting in the loss of hundreds of lives.
Asked to investigate, the Doctor soon encounters the sinister local clan leader, the Duke of Forgill, and quickly realises that the forces which destroyed the oil rigs, and which now threaten the lives of his companions, are not of this Earth...
The amorphous Zygon creatures were a masterpiece of design by series regulars James Acheson (costume) and John Friedlander (special effects/make-up). Their work combined seamlessly to create disturbingly foetal alien entities which are truly convincing in combination with the marvellously organic spaceship sets. The Zygon creatures were originally intended to be semi-translucent, with glowing bulbs hidden within the heavy costumes, but the effect was almost unnoticeable under the bright studio lights.
The story's studio recordings took place on 7/8 and 22/23 April 1975, with most of the scenes grouped by location, rather than story order, for easier assembly in the editing room. Previously, most Doctor Who stories were taped in their final transmission sequence, with pre-filmed 'telecine' inserts interspersed between the studio elements.
Although Terror of the Zygons was originally scheduled to be screened at the end of Tom Baker's first year in the role (broadcast during 1974/75) it was eventually postponed to form the opening story in a strong competition-bashing line-up for Autumn 1975, which became one of the series' strongest and best-loved eras.