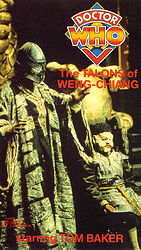 Edition:
Australia (VHS)
Released:
April 1987

Publisher:
BBC Video
Format:
1 x VHS PAL
Owned:
Buy:
Note: Movie format. One of only 4 videos which were released in Australia before any other countries (and hence have a different cover to the UK & US releases) — the others are: The Time Warrior, The Ark In Space and Terror of the Zygons.
Cover blurb:
In this feature-length adventure set deep in the darkest heart of Victorian London, the Doctor and Leela are confronted by a series of bizarre and horrific events. An innocent cabbie is viciously slain by the agents of a secret Chinese cult; young women disappear quietly and suddenly; in the depths below, the rankest sewers are infested by giant, deadly abominations.
The Doctor, helped only by the local pathologist Professor Litefoot and the cowardly Henry Jago, finds himself battling for his life against the hideously deformed Magnus Greel, who pretends to be the ancient Chinese God, Weng-Chiang. But Greel is not the only menace; the Doctor must also deal with the illusionist Li H'sen Chang and the murderous dwarf Mr Sin before Leela falls prey to the Talons of Weng-Chiang...