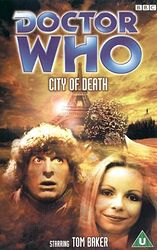 Edition:
UK (repackaged VHS)
Released:
May 2001

Publisher:
BBC Video
Format:
1 x VHS PAL
Owned:
Buy:
Note: Repackaged release — identical to previous UK edition but with a different cover.
Cover blurb:
The Doctor and Romana are enjoying a well-earned break in Paris, relaxing in the gentle delights of the art galleries, the waterfront cafes, the Eiffel Tower... and the unexpected jumps in time that no one else seems to notice...
Rare treasures and once-lost masterpieces are suddenly in auction houses all over the world, the only link to them all being the mysterious Count Scarlioni. But what project is he secretly financing in the basement of his Paris chateau?
The time-travellers meet up with Duggan, a private detective investigating the activities of the Count and his accomplices. Can Scarlioni be planning the most audacious and daring of all art thefts? Or are his ambitions much grander? Big enough to threaten the existence of the entire human race...?
This story was first broadcast on BBC1 between 29th September - 20th October 1979.