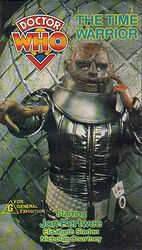 Edition:
Australia (VHS)
Released:
March 1989

Publisher:
BBC Video
Format:
1 x VHS PAL
Owned:
Buy:
Note: One of only 4 videos which were released in Australia before any other countries (and hence have a different cover to the UK & US releases) — the others are: The Ark In Space, Terror of the Zygons and The Talons of Weng-Chiang.
Amusingly, whoever wrote the back cover blurb doesn't seem to have heard of "spoilers" and accordingly gives away the entire plot! (The same is true of the Aussie release of The Ark in Space)
Cover blurb:
Linx, an alien Captain of the Sontaran race, lands his starship crippled by the Rutans, in medieval times outside a castle belonging to the robber chief, Irongron. Irongron offers shelter in exchange for modern weapons. Linx uses his time machine to reach the 20th Century to steal scientists and equipment to repair his starship. The Doctor, accompanied by a stowaway, journalist Sarah Jane Smith, who is investigating the disappearance, uses tracking instruments to find Irongron's castle. The Doctor is captured and interrogated by Linx, who discovers he is a Time Lord. Despite the resistance of a robot knight built by Linx, Irongron's castle eventually falls. Linx is killed by a local archer and his spaceship blows up.