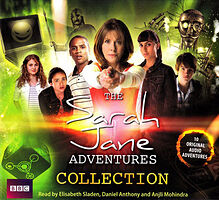 Note: Box set containing BBC Audio's 10 previously-released SJA audio readings, namely: The Thirteenth Stone, The Glittering Storm, The Ghost House, The Time Capsule, The White Wolf, The Shadow People, Wraith World, Deadly Download, Children of Steel and Judgement Day.

Cover blurb:
Ten exclusive audio adventures featuring Sarah Jane and friends, read by Elisabeth Sladen, Daniel Anthony and Anjli Mohindra
Sarah Jane always finds herself on the trail of trouble. As an old friend of the Doctor, she's used to encountering aliens, battling monsters and defeating evil. And although Sarah Jane doesn't travel through time and space so regularly these days, she still finds plenty of danger and adventure on Earth.
In these amazing stories, Sarah Jane finds herself investigating a private health clinic, a mysterious stone circle, some lethal alien artefacts, a strange Victorian house and a bizarre hill carving. Then there's the camping trip that sees the friends stranded in Snowdonia, the deadly computer virus, the terrifying creature from a world of nightmares, the steam-powered robot and the race of aliens who think Sarah Jane's a dangerous lawbreaker...
Along with Luke, Clyde, Rani, Maria and Sky — not to mention supercomputer Mr Smith — Sarah Jane and her trusty sonic lipstick must prepare themselves for anything the universe can throw at them!
These stories have been specially written for audio by Justin Richards, Stephen Cole, Peter Anghelides, Gary Russell, Scott Handcock, Jason Arnopp, Cavan Scott & Mark Wright, Martin Day and Scott Gray. With additional music and sound effects, they are read by Elisabeth Sladen (Sarah Jane), Daniel Anthony (Clyde) and Anjli Mohindra (Rani).