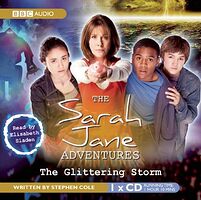 Note: Was later re-released as part of The Sarah Jane Adventures Collection box set.
Cover blurb:
Sarah Jane Smith and her friends investigate a mysterious clinic, in a thrilling new adventure read by Elisabeth Sladen
When Sarah Jane disturbs a burglar in the night, she is suprised to find a middle-aged woman, her pockets stuffed with jewellery, demanding gold. The next day, she reads a newspaper story about a granny who broke into a jewellers, and then Maria reports that a woman has been steealing rings and necklaces from the girls' changing room at school.
All the women had recently attended the Auriga Clinic, a private health centre specialising in treating muscular aches and pains. Is there a link between the clinic and the odd behaviour of its patients?
Sarah Jane decides to find out, but she soon discovers that the clinic's secret agenda is more sinister than she could ever have imagined...
Elisabeth Sladen, who stars as Sarah Jane in the CBBC TV series, reads this exclusive audio story which has been written by bestelling author Stephen Cole.
The cover photograph shows Elisabeth Sladen as Sarah Jane with Yasmin Paige as Maria, Thomas Knight as Luke, and Daniel Anthony as Clyde.