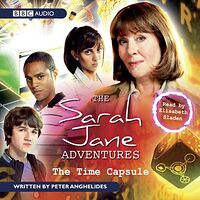 Note: Was later re-released as part of The Sarah Jane Adventures Collection box set.
Cover blurb:
Sarah Jane and friends must deal with some deadly alien artefacts in this gripping story, read by Elisabeth Sladen
It seems like a regular, routine weekday: Sarah Jane is doing a supermarket shop (and trying not to embarrass Clyde, who is doing his work experience in Betterworth's) while Luke is at the Natural History Museum, helping to catalogue items and set up displays. But their ordinary day is about to turn extraordinary, as forces from an alien world start to affect Earth and all hell breaks loose. With an icy void opening beneath the chiller cabinet, museum exhibits coming alive and terrifying monsters appearing, Sarah Jane, Luke, Clyde and Rani are soon fighting for their lives...
Elisabeth Sladen, who stars as Sarah Jane in the CBBC TV series, reads this exclusive audio story which has been written by bestselling author Peter Anghelides.