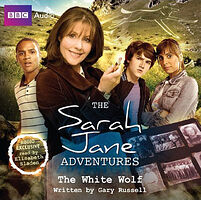 Note: Was later re-released as part of The Sarah Jane Adventures Collection box set.
Cover blurb:
A mysterious letter sparks off another adventure for Sarah Jane, in this exclusive audio story read by Elisabeth Sladen
When Sarah Jane receives a strange letter from Eddison Clough, her curiosity is aroused. For Eddison possesses a photograph proving he was once close friends with her Aunt Lavinia — but he has no memory of ever having met her.
Intrigued, Sarah Jane and Luke go to visit him and, with Clyde and Rani, they explore the village of Wolfenden. The locals seem strange and secretive — especially the Hendricks, a deathly pale family with white hair and white eyes.
What is lurking in the underground caves? What is the significance of the white wolf carved on the hillside? And what does it all have to do with alien abduction?