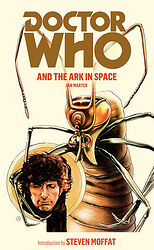 Edition:
UK (3rd paperback)
Released:
May 2012

Publisher:
BBC Books
ISBN:
978-1-84990-476-6
Format:
paperback
Owned:
Buy:

| | | |
| --- | --- | --- |
| | | (Unable to fetch price) |

| | | |
| --- | --- | --- |
| | | (Unable to fetch price) |
Note: Following Random House/BBC Books' 6 successful novelisation reprints in 2011, this was a second batch of half-a-dozen reprints, released in both paperback and e-book form. The others in this batch were: The Day of the Daleks, The Ice Warriors, The Loch Ness Monster, The Tenth Planet and The Three Doctors.
Cover blurb:
'Homo Sapiens... what an indomitable species... it is only a few million years since it crawled up out of the sea and learned to walk... a puny defenceless biped... it has survived flood, plague, famine, war... and now here it is out among the stars... awaiting a new life.'
The survivors of a devastated future Earth lie in suspended animation on a great satellite. When Earth is safe again, they will awaken. But when the Doctor, Sarah and Harry arrive on the Terra Nova, they find the systems have failed and the humans never woke.
The Wirrrn Queen has infiltrated the satellite, and laid her eggs inside one of the sleepers. As the first of the humans wake, they face an attack by the emerging Wirrrn.
But not everyone is what they seem, and the only way the Doctor can discover the truth is by joining with the dead mind of the Wirrrn Queen. The price of failure is the Doctor's death, and the end of humanity.
THIS NOVEL IS BASED ON A DOCTOR WHO STORY WHICH WAS ORIGINALLY BROADCAST FROM 25 JANUARY TO 15 FEBRUARY 1975.
Featuring the Fourth Doctor as played by Tom Baker, and his companions Sarah Jane Smith and Harry Sullivan