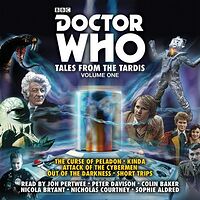 Edition:
UK (CD)
Released:
November 2016

Publisher:
BBC Audio
ISBN:
978-1-78529-556-0
Format:
11 x CD
Owned:
Buy:

| | | |
| --- | --- | --- |
| | | (Unable to fetch price) |
Note: Being a regular audio CD box set, this does not contain the "TARDIS viewer screen" and other CD-ROM content which was on the MP3-CD edition.
Cover blurb:
Twelve stories of excitement and adventure in distant times and places!
The Curse of Peladon
Read by Jon Pertwee
On a primitive planet, the Doctor and Jo encounter a delegation of aliens, including the Ice Warriors, in this TV novelisation by Brian Hayles.
Kinda
Read by Peter Davison
A serpent at the heart of paradise poses danger for the TARDIS crew and a human survey team, in this TV novelisation by Terrance Dicks.
Attack of the Cybermen
Read by Colin Baker
The Cybermen are intent on a plan to change history by crashing Halley's Comet into Earth, in this TV novelisation by Eric Saward.
Out of the Darkness
Read by Colin Baker and Nicola Bryant
The Sixth Doctor and Peri fall into danger in three gripping original short stories by Dave Stone, Guy Clapperton and Michael Collier.
Short Trips
Read by Nicholas Courtney and Sophie Aldred
Familar Doctor Who characters are caught up in intriguing and original situations in these six short stories by Steve Lyons, Jonathan Blum, Tara Samms, David A McIntee, Robert Perry & Mike Tucker and Paul Magrs.