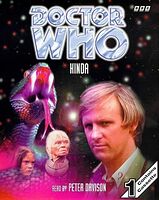 Note: Abridged audio reading of the 1983 novelisation by Terrance Dicks. Single cassette but packaged in a double cassette box. Subsequently "re-released" in February 2001 to clear out old stocks. Re-released again in MP3-CD format as part of the compilation Tales from the TARDIS: Volume 1.
Cover blurb:
The Doctor and his friends materialize in the jungle paradise of the planet Deva Loka — but soon discover things are far from what they seem.
Members of an Earth Survey team are disappearing one by one. Those that are left suspect the Kinda, a peaceful native tribe. But the Doctor suspects a far more deadly influence is at work...
Tegan, the Doctor's companion, is taken over by a sinister force known as the Mara that seeks to plunge Deva Loka into destruction and chaos — a particularly nasty snake in this garden of Eden...
Peter Davison — the fifth Doctor — reads this abridged version of the novel by Terrance Dicks.