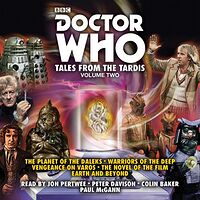 Edition:
UK (CD)
Released:
February 2017

Publisher:
BBC Audio
ISBN:
978-1-78529-650-5
Format:
12 x CD
Owned:
Buy:
Note: Being a regular audio CD box set, this does not contain the "TARDIS viewer screen" and other CD-ROM content which was on the MP3-CD edition.
Cover blurb:
Seven stories of excitement and adventure in distant times and places!
The Planet of the Daleks
Read by Jon Pertwee
The TARDIS brings the Doctor and Jo to Spiridon, where they meet old allies — and old enemies — in this TV novelisation by Terrance Dicks.
Warriors of the Deep
Read by Peter Davison
In 2084, Earth's superpowers inhabit the far corners of the ocean bed. But they are not alone, in this TV novelisation by Terrance Dicks.
Vengeance on Varos
Read by Colin Baker
The Doctor and Peri encounter the reptilian Sil, and a populace entertained by video sadism, in this TV novelisation by Philip Martin.
The Novel of the Film
Read by Paul McGann
The Time Lord's Eighth incarnation is born in this novelisation by Gary Russell of the 1996 TV movie.
Earth and Beyond
Read by Paul McGann
Travel broadens the mind for the Eighth Doctor and Sam in this trio of original short stories by Peter Anghelides, Andrew Miller and Paul Leonard.