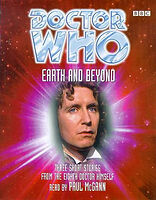 Note: Audio reading of three short stories: The People's Temple was originally published in Short Trips, Dead Time appeared in More Short Trips, while Bounty is previously unpublished. Later re-released in MP3-CD format as part of the compilation Tales from the TARDIS: Volume 2.
Cover blurb:
Three gripping Doctor Who adventures read by the Eighth Doctor himself!
Bounty by Peter Anghelides:
Seventeen-year-old Sam Jones' first trip in the TARDIS is to the Seychelles in the present day — and involves a deadly encounter with alien bounty hunters. Can the Doctor stop them making Earth their battleground?
Dead Time by Andrew Miller:
The TARDIS crash-lands in a freezing world of utter darkness. Who are the whispering creatures that want the Doctor dead? And what terrible consequences will their actions have for the entire universe?
The People's Temple by Paul Leonard:
Arriving at Stonehenge during its construction, the time-travellers soon discover that its mystical origins are steeped in human suffering. But in her attempts to make things better for the slave workers, toiling to complete the stone circle, will Sam start a war?
Read by Paul McGann, with added music and effects, let these exciting short stories take you from the confines of Earth to beyond space and time as we know it.