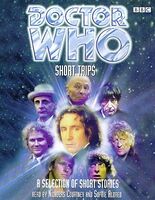 Note: Audio reading of 6 short stories, 5 of which were originally published in Short Trips. The sixth (Degrees of Truth) was previously unpublished. This audio was later re-released in MP3-CD format as part of the compilation Tales from the TARDIS: Volume 1. Two of the stories (Freedom and Old Flames) also received a standalone CD release in 2009 on Tales from the TARDIS.
Cover blurb:
Join the Doctor and his friends in a selection of exciting short stories through time and space!
Freedom by Steve Lyons — The Third Doctor faces the Master and a conflict of interests in a mysterious prison...
Model Train Set by Jonathan Blum — The Eighth Doctor comes up against some very old problems...
Glass by Tara Samms — An ordinary woman is plagued by a sinister apparition...
Degrees of Truth by David A. McIntee — The Brigadier faces a deadly confrontation in a story exclusive to this cassette...
Stop The Pigeon by Robert Perry and Mike Tucker — The Seventh Doctor is embroiled in a bizarre battle to save Earth...
Old Flames by Paul Magrs — The Fourth Doctor meets a mischievous acquaintance from his past...
Based on DOCTOR WHO: SHORT TRIPS — A COLLECTION OF SHORT STORIES published by BBC Worldwide (abridged)