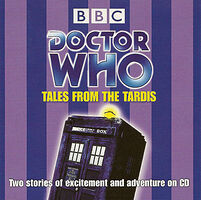 Note: Contains audio readings of two short stories, both of which were originally published in the 1998 short story collection Short Trips, then released as audio readings twice, first on the Short Trips cassette, then on the compilation CD Tales from the TARDIS: Volume 1. The back cover blurb of this CD is dated 2008, but the release was not until summer 2009 (exact date unknown).
Cover blurb:
Sophie Aldred and Nicholas Courtney read two exciting Doctor Who stories
Sophie Aldred (who played the Doctor's assistant Ace) and Nicholas Courtney (the Brigadier) read two Doctor Who stories written by Steve Lyons and Paul Magrs.
Freedom by Steve Lyons
The Third Doctor faces the Master and a conflict of interests in a mysterious prison...
Old Flames by Paul Magrs
The Fourth Doctor meets a mischievous aquaintance from his past...
Two short stories featuring familiar Doctor Who characters in intriguing and original situations.