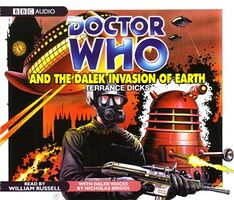 Note: Audio reading of Terrance Dicks's 1977 novelisation. Originally scheduled for release in May 2009 but delayed for reasons unknown. Subsequently re-released as part of the Invasion Earth box set.
Cover blurb:
William Russell reads this exciting novelisation of a classic Doctor Who adventure, with Dalek voices by Nicholas Briggs
The TARDIS lands in a London of future times — a city of fear, devastation and holocaust... a city now ruled by Daleks.
The Doctor and his companions meet a team of underground resistance workers, among the few survivors, but after an unsuccessful attack on the Dalek spaceship, they are all forced to flee the capital.
A perilous journey through England finally brings them to the secret centre of Dalek operations... and the mysterious reason for the Dalek invasion of Earth!
William Russell, who played the Doctor's companion Ian in the original TV serial, reads Terrance Dicks' complete and unabridged novelisation, with specially composed music and special sound.
"BBC Audiobooks has chosen well with its books and has taken the right approach with its readers... they benefit from new music and sound effects."
Doctor Who Magazine