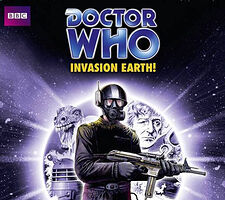 Description: CD box set containing the previously-released novelisation readings The Dalek Invasion of Earth, The Auton Invasion and The Dinosaur Invasion.
Cover blurb:
Earth is under attack in these three thrilling novelisations of classic Doctor Who adventures
Doctor Who and the Dalek Invasion of Earth by Terrance Dicks
Read by William Russell with Dalek voices by Nicholas Briggs
The TARDIS lands in a London of future times — a city of fear, devastation and holocaust... a city now ruled by Daleks.
Doctor Who and the Auton Invasion by Terrance Dicks
Read by Caroline John
In this, the first adventure of his third incarnation, the Doctor, Liz Shaw and the Brigadier grapple with the nightmarish invasion of the Autons.
Doctor Who and the Dinosaur Invasion by Malcolm Hulke
Read by Martin Jarvis
The Doctor and Sarah arrive back in the TARDIS to find London completely deserted — except for the dinosaurs. Has the return of these prehistoric creatures been deliberately planned and, if so, who can be behind it all?
With additional sound effects and music, these unabridged adaptations, first published as Target Books based on the original TV serials by Terry Nation, Robert Holmes and Malcolm Hulke, are sure to thrill and delight all adventure seekers.