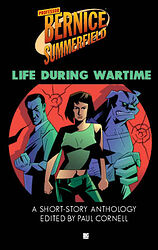 By:
Paul Cornell (ed.)
Rating:
8.9 (21 votes) Vote here
Review:
Part 1 Read more (1 in total)
Released:
October 2003

Publisher:
Big Finish
ISBN:
1-84435-062-2
Format:
hardback
Owned:
Buy:
Note: The overarching plot of this short story collection is designed to lead into the audio release Death and the Daleks.
Cover blurb:
Twenty-five brand new short-stories...

A short-story anthology edited by
PAUL CORNELL
The Braxiatel Collection has been occupied by the Fifth Axis. This shouldn't have happened: Brax picked this place to be safe, and surely he knows the history of time and space?
Bernice and her friends find themselves living under a military government. Bev joins the resistance. Adrian is thrown into a prison camp for aliens. Jason finds a comfortable little niche for himself in the new administration. Bernice's half-human son, Peter, is now under threat every minute of every day.
Bernice finds herself caught in the middle of the occupation, her old friends, and her desperate need to protect her child.
This dramatic and tragic new collection includes stories from Kate Orman, Robert Shearman, Jim Mortimore, Martin Day, Paul Cornell and many others...
Contents:
The Fall by Paul Cornell
Careless Talk by Justin Richards
The Birthday Party by Simon Guerrier
Five Dimensional Thinking by Nick Wallace
Meanwhile by Robert Shearman
The Price of Everything by Gregg Smith
Hit by John Binns
The Garden of Whispers by Martin Day
The Crystal Flower by Cavan Scott & Mark Wright
Midrash by Ian Mond
Fear of Corners by Mark Stevens
The Traitors by Jonathan Morris
Paths Not Taken by Rupert Booth & Barr Williams
Every Picture Tells a Story by Jim Sangster
Fluid Prejudice by Paul Ebbs
Suffer the Children by Dave Stone
Drinking with the Enemy by Jonathan Blum
Passing Storms by Peter Anghelides
Speaking Out by Simon Guerrier
The Peter Principle by Kate Orman
A Bell Ringing in an Empty Sky by Jim Mortimore
...plus four Lockdown Conversations by Paul Cornell