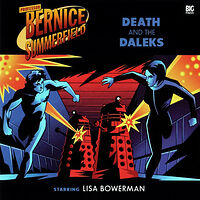 Note: Right up to the release date, the title was publicised as "The Axis of Evil" and fake cover art was circulated online to avoid "spoiling" the surprise appearance of the Daleks. Written to follow on directly from the book Life During Wartime.
Cover blurb:
The Braxiatel Collection has been occupied by the Fifth Axis. Who seem to be led by a figure from Bernice's past. Behind him lies the evil time travelling power of the Daleks.
As Bernice's friends rise up to end the occupation, Bernice embarks on a desperate rescue mission, to somewhere she last went long ago.
Braxiatel confronts his destiny, Jason risks all for his love, and lives are shattered and lost, as the battle of the Braxiatel Collection reaches its epic conclusion.
Our heroes will live free or die...