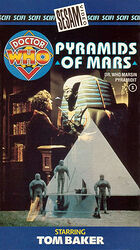 Edition:
Finland (VHS)
Released:
January 1986

Publisher:
Sesam Video
Format:
1 x VHS PAL
Owned:
Note: Movie format. The Finnish title is Dr. Who - Marsin Pyramidit, although the English title is more prominently displayed on the cover, as you can see from the photo. Contains English audio with Finnish subtitles. This was the only Doctor Who video ever released in Finland.
Cover blurb:
Tässä ensimmäinen filmi DOCTOR WHO — sarjasta, jossa Tom Baker esittää pääroolia. DOCTOR WHO on Englannin tähän asti kaikkein suosituin science fiction-sarja.
Sarja on tarkoitettu nuorisolle, mutta sitä katsovat mielellään kaikenikäiset science fictionin ihailijat.
Koko maailmankaikkeuden tulevaisuus on tällä kertaa vaakalaudalla, ja ainoastaan DOCTOR WHO voi pelastaa sivilisaatiomme! Jos hän epäonnistuu, sivilisaatiomme kulkee kohti varmaa tuhoa...
English translation as follows:
Here you have the first release of the series DOCTOR WHO, starring Tom Baker. DOCTOR WHO is so far the most popular science fiction series in England.
The series is targeted for the young, but science fiction fans of all ages enjoy watching it.
This time the future of the whole universe is in jeopardy and only DOCTOR WHO can save our civilization! If he fails, our civilization is doomed...