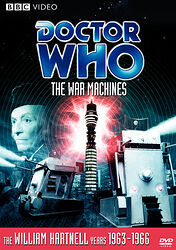 Edition:
US (DVD)
Released:
January 2009

Publisher:
BBC Video
Format:
1 x DVD
Owned:
Buy:
Cover blurb:
(Based on an idea by Kit Pedler)
The TARDIS arrives in London, 1966, where the Doctor and Dodo visit the recently opened Post Office Tower. At its top they discover a brilliant new problem-solving super computer — the Will Operating Thought ANalogue.
But when WOTAN decides that it should rule the world, the Doctor is the only person who can stop its rampaging War Machines from destroying London. Luckily, he has the help of a young secretary called Polly and a sailor called Ben...
DVD EXTRAS INCLUDE:
Audio commentary by actor Anneke Wills (Polly) and director Michael Ferguson
Now and Then Location featurette (6 mins)
Blue Peter Clips featuring the new Post Office Tower and the War Machines (16 mins)
One Foot In The Past Archive clip on the Post Office Tower (7 mins)
WOTAN Assembly How the story was pieced back together from disparate sources for the DVD release (9 mins)
Easter egg (1 min)
Photo Gallery (4 mins)
Production Note Option
DVD-ROM features: Radio Times listings, War Machine design plan
Digitally remastered picture and sound quality
Originally transmitted June 25 - July 16, 1966