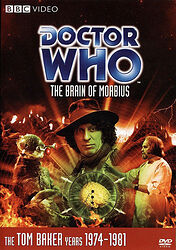 Edition:
US (DVD)
Released:
October 2008

Publisher:
BBC Video
Format:
1 x DVD
Owned:
Buy:

| | | |
| --- | --- | --- |
| | | (Not currently available) |
Cover blurb:
The Time Lords have taken control of the TARDIS, sending the Doctor and Sarah Jane Smith into dangerous territory.
On the graveyard planet of Karn, the eternal Sisterhood fights to keep the sacred flame alive. High in the castle, the brilliant surgeon Mehendri Solon conducts gruesome experiments on living flesh. And as a storm approaches, an evil from the depths of Time Lord history plots its return to the land of the living.
But is even the Doctor's mind a match for the Brain of Morbius?
DVD EXTRAS INCLUDE:
Audio commentary by Tom Baker (the Doctor), Elisabeth Sladen (Sarah Jane), Philip Madoc (Solon), producer Philip Hinchcliffe and director Christopher Barry
Getting a Head Making Of documentary featuring Christopher Barry, Philip Hinchcliffe, writer Terrance Dicks, designer Barry Newbery, composer Dudley Simpson, and actors Philip Madoc, Cynthia Grenville (Maren), Colin Fay (Condo) and Gillian Brown (Ohica), narrated by Paul McGann (32 mins)
Designs on Karn Designer Barry Newbery tells how the planet Karn was created (6 mins)
Set Tour Take a walk around the studio sets with this 3D CGI reconstruction (2 mins)
Photo Gallery (4 mins)
Sketch gallery (2 mins)
Production Note Option
PC-ROM feature Radio Times billings
Digitally remastered picture and sound quality
Originally transmitted January 3 - 24, 1976