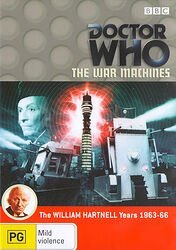 | | | |
| --- | --- | --- |
| | | |
| | Reviews for The War Machines | |
| | | |
There are 5 reviews so far. To add a review of your own for this item, visit the voting page.
By:
Huw Davies, Taunton, United Kingdom
Date:
Tuesday 26 August 2008
Rating:
9
This is a Doctor Who classic, and one that I am glad to see released. William Hartnell is as good as ever, despite his looming departure only weeks away, and Jackie Lane is also good as Dodo Chaplet, although her departure leaves a lot to be desired.
Anneke Wills and Michael Craze make their debuts as Polly and Ben, although as I have never particularly liked either character I shall say no more on that subject.
The DVD extras are sparse but good. The 'WOTAN Assembly' featurette is the best, exploring how this story was recovered.
By:
Trevor Smith, Nottingham, United Kingdom
Date:
Wednesday 27 August 2008
Rating:
9
Here at last,for the first time since 1966 the fully restored version of The War Machines. How wonderful it is to see this pristine cleaned up 1st Doctor classic. Set in groovy, swinging 60's London, The Doctor battles against the WOTAN computer & its monstrous War Machines while on the way getting two new companions,Ben & Polly while Dodo (Thankfully) decides to stay in London.Some great extras from Blue Peter while Tony Benn explains the history of the Tower. Essential purchase.
By:
lardblah, lardblahland
Date:
Wednesday 27 August 2008
Rating:
7
It's a weakish story on a strongish disc. Good commentary and some imaginative extras (given the options) which are well-presented. Enjoyable commentary and excellent information text.
By:
Steve Hendry, Lincoln, England
Date:
Saturday 27 June 2009
Rating:
10
This was a story that pretty much broke new ground in 1966, a precursor to the "present-day" Earth-bound stories of the Troughton era and beyond, after years of travel across the furthest reaches of time and space. WOTAN's machines are out and about on the actual streets of London, a concept entirely new for the show at the time of broadcast. If the likes of The Invasion, Doctor Who and The Silurians, Rose and Army of Ghosts are your thing, then this is essential viewing for you. It's where it all started; the first Doctor Who story with The Enemy On Your Doorstep. The Post Office Tower is as recognisable a landmark as St Paul's Cathedral or Canary Wharf (sorry, Torchwood Tower). The news bulletins warning the residents of London of the threat outside are as chillingly effective here as in Turn Left and the whole story feels so fresh throughout,despite being a loose template for so many subsequent stories you've already seen. Billy bumps his head six minutes into part four(ok that isn't an important part of the plot but it is amusing and I had to mention it). Michael Craze as the swashbuckling Ben "Action" Jackson and gorgeous Anneke Wills as Polly give terrific debut turns alongside a strong supporting cast and an effervescent Sir William Hartnell. These four episodes are just glorious and yet it's a minor miracle we even have the chance to savour this piece of DW history; the excellent extra feature WOTAN Assembly tells a more than impressive tale of many people's determination, passion and skill required to piece this absolute classic back together. Massive thanks are due to each one of those who managed it. Tony Benn's tour of WOTAN's base is an enjoyable little add-on too,the look on his face as he revisits the top of the tower and its stunning view of London so long after his ministerial days is a real treat; but then so is the whole package here. Whatever era of the show you favour there's plenty to enjoy and recognise from this, the original you might say, in so many ways.
| | | |
| --- | --- | --- |
| | | |
| | Doctor Who is required! Bring him here! | |
| | | |
By:
Matthew David Rabjohns, Bridgend, United Kingdom
Date:
Thursday 12 May 2011
Rating:
9
This story has a very good level of realism to it. The internet pre-scare theme is explored very well indeed. WOTAN is another brilliant computer villian, and in some ways yes, probably more superior than BOSS in the Green Death as WOTAN is not a wagner lover. The voice of WOTAN is particularly effective.
The scenes set in the Inferno club are perhaps Doctor Whos first real attempt at grounding a story in a truly normal earth everyday setting. Michael Craze and Anneke Wills instantly make a good impression as Ben and Polly, and one gets the feeling that they really got on well, as it comes off on screen all the way from the start.
Jackie Lane is about the only problem in this story, and I dont mean its her performance. its just that Dodo isnt given a fair and good goodbye from the Doctor at the end of the story. But the Doctor's dialogue to Polly at the end is brilliant. Dodo deserved a far better send off than this. But this is the story's only real downfall.
And again, this story is all the better for the script not being overloading with too many subplots along the way. It just gets on with telling a cracking good tale. The scenes of the war machines fighting the soldiers are particularly impressive too. Very well done indeed for the time this story was made.
William Hartnell is also very good again here in this story. He seems to taake a bit of back seat, but this was probably mostly to do with the facts of the fine actor's failing health in these later years on Doctor Who. But his charm, grumpiness but solid belief in the wrong of evil are what made him such a great Doctor.
The War Machines is definitely high on the tier of classic Who stories. I really like the added touch of real news presenters used in the story too. Its all highly effective and adds to the scare of the computer that overtakes human will for it own ends. Yeah, sort of a precursor to the far less interesting TERMINATOR series of flims. The War Machines is better than Terminator though. By far.