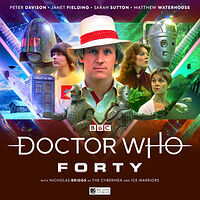 Description: Doctor Who audio drama box set featuring the Fifth Doctor, Nyssa, Tegan and Adric, released to celebrate 40 years since Peter Davison's debut as the Doctor. Followed by Forty: Part Two.
Cover blurb:
Time Lords are used to being adrift in time... but not usually without a TARDIS. And not usually across their own life.
The Doctor finds himself bouncing back and forth across his personal timeline... but why? And who is responsible?
SECRETS OF TELOS BY MATT FITTON
GOD OF WAR BY SARAH GROCHALA