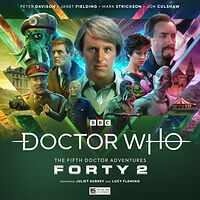 Description: Doctor Who audio drama box set featuring the Fifth Doctor, Tegan, Turlough, Kamelion and the Brigadier, released to celebrate 40 years since Peter Davison's debut as the Doctor. Follow-up to Forty.
Cover blurb:
Time Lords are used to being adrift in time... but not usually without a TARDIS. And not usually across their own life.
The Doctor has found himself bouncing back and forth across his personal timeline, and barely escaped with his life. But he's just about to uncover the reason why...

THE AUTON INFINITY BY TIM FOLEY