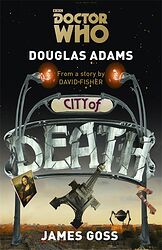 Edition:
UK (hardback)
Released:
May 2015

Publisher:
BBC Books
ISBN:
978-1-84990-675-3
Format:
hardback
Owned:
Buy:
Cover blurb:
No blurb on back cover, simply an X-Ray picture of the Mona Lisa with "This Is A Fake" scrawled across it. Inside cover flaps read as follows:
'You're tinkering with time. That's always a bad idea unless you know what you're doing.'
The Doctor takes Romana for a holiday in Paris — a city which, like a fine wine, has a bouquet all of its own. Especially if you visit during one of the vintage years. But the TARDIS takes them to 1979, a table-wine year, a year whose vintage is soured by cracks — not in their wine glasses but in the very fabric of time itself.
Soon the Time Lords are embroiled in an audacious alien scheme which encompasses home-made time machines, the theft of the Mona Lisa, the resurrection of the much-feared Jagaroth race, and the beginning (and quite possibly the end) of all life on Earth.
Aided by British private detective Duggan, whose speciality is thumping people, the Doctor and Romana must thwart the machinations of the suave, mysterious Count Scarlioni — all twelve of him — if the human race has any chance of survival.
But then, the Doctor's holidays tend to turn out a bit like this.
Douglas Adams was born in Cambridge in 1952, and was educated at Brentwood School, Essex and St John's College, Cambridge, where he read English. As well as writing all the different and conflicting versions of The Hitchhiker's Guide To The Galaxy he has been responsible for Dirk Gently's Holistic Detective Agency, The Long Dark Tea-Time of the Soul, and, with John Lloyd, The Meaning of Liff and The Deeper Meaning of Liff. In 1978-9, he worked as Script Editor on Doctor Who. He wrote three scripts for the programme — 'The Pirate Planet', 'City of Death' (under the name David Agnew), and 'Shada'. Douglas Adams died in May 2001.
James Goss is the author of two Doctor Who novels: The Blood Cell and Dead of Winter, as well as Summer Falls (on behalf of Amy Pond). He is also the co-author, with Steve Tribe, of The Doctor: His Lives and Times, The Dalek Handbook and Doctor Who: A History of the Universe in 100 Objects. While at the BBC James produced an adaptation of Shada, an unfinished Douglas Adams Doctor Who story, and Dirk is his award-winning stage adaptation of Dirk Gently's Holistic Detective Agency. His Doctor Who audiobook Dead Air won Best Audiobook 2010 and his books Dead of Winter and First Born were both nominated for the 2012 British Fantasy Society Awards.