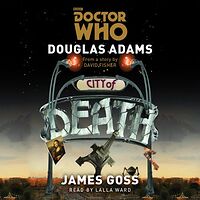 Note: Unabridged audio reading of the novelisation by James Goss. Not to be confused with the audio soundtrack of the same story, released in 2012. A German translation of this reading was released in November 2015 as an audio download: Buy from Amazon.co.uk | Buy from Amazon.de
Cover blurb:
Lalla Ward reads the brand new novelisation of a classic Fourth Doctor TV story by Douglas Adams
The Doctor takes Romana for a holiday in Paris - a city which, like a fine wine, has a bouquet all its own. But the TARDIS arrives in 1979, a table-wine year, whose vintage is soured by cracks in the very fabric of time itself. Soon the Time Lords are embroiled in an audacious alien scheme which encompasses home-made time machines, the theft of the Mona Lisa, the resurrection of the much-feared Jagaroth race, and the beginning (and quite possibly the end) of all life on Earth.
Aided by British private detective Duggan, the Doctor and Romana must thwart the machinations of the suave, mysterious Count Scarlioni - all twelve of him - if the human race has any chance of survival.
Lalla Ward, who played Romana in the TV series, reads this novel by James Goss based on the original 1979 serial, written by Douglas Adams under the pen name David Agnew.