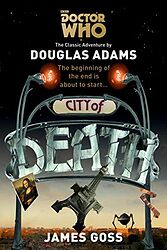 | | | |
| --- | --- | --- |
| | | |
| | Reviews for City of Death | |
| | | |
There are 4 reviews so far. To add a review of your own for this item, visit the voting page.
By:
Trevor Smith, Nottingham, United Kingdom
Date:
Sunday 21 June 2015
Rating:
10
I'll admit, having loved Gareth Roberts novelisation of 'Shada' I was bitterly disappointed when he dropped out of writing this book. Nobody writes 4th Doctor & Romana 2 like Gareth Roberts, so James Goss had a big task in hand writing the novelisation of this, one of the most beloved of all televised Who story's but all my worries were unfounded as Goss passes the test with flying colours. Not only does he get the 'feel' of COD but with added source material (all explained in notes at the end of the nove by the author) he expands on an already wonderful story and is able to give lots of background to the characters and the story. All in all a wonderful book that I ripped through in two days. Highly recommended.
| | | |
| --- | --- | --- |
| | | |
| | Well worth the (36 year) wait | |
| | | |
By:
John Hubbard, Northants, United Kingdom
Date:
Saturday 18 July 2015
Rating:
8
This is not the book that Douglas Adams would have written but James Goss has written a book which captures the anarchic elements to the story and fleshes it out but also one which will satisfy the purists who want an rendition of what was on screen.
Romana in particular benefits from the expansion to the page and there are some lovely self referential jokes (and affectionate jibes at Doctor Who fans). I read this book with a smile on my face from start to finish.
I am now looking forward to his adaptation of The Pirate Planet and hoping that Eric Saward sees which way the wind is blowing before fans start posting copies of Misery through his front door
By:
Earle DL Foster, Invercargill, New Zealand
Date:
Monday 30 November 2015
Rating:
9
I already have an unofficial novelisation of this epic story (which was enjoyable enough), but this brand new presentation has delivered so much more in both televised and literary detail. Undoubtedly the best effort yet of James Goss, and I also hope that this could be the beginning of yet another branch of Who-related reading merchandise.
By:
David Layton, Los Angeles, United States
Date:
Thursday 13 April 2017
Rating:
8
It is probably best that City of Death was not novelized in the Target paperback series, which by that point was mostly Terrance Dicks' repeating the script with a few fillers to make it look like a book. James Goss has done an excellent job of turning one Doctor Who's most beloved stories into a real novel. Using shooting scripts, drafts, and other material, Goss has fleshed out the story, added explanations that give the plot more sense, and still incorporated everyone's favorite lines, in fact nearly all the dialogue of the original TV broadcast. He has adopted a narrative voice similar to Douglas Adams', as expected, but has not gone in for either total imitation or pastiche. The result is fun to read, nostalgic, and generally better than most novels featuring Doctor 4. Though the plot and main characters remain true to the TV broadcast, there are a few notable differences in some of the side characters from the TV version. Duggan, for instance, is big, burly, and overweight, in contrast to Tom Chadbon, a pretty dapper figure in those days. The two art aficionados (John Cleese and Eleanor Bron) become recurring characters moving along in their own little side plot. Kerensky, the Countess, and Hermann are also noticeably different from their TV counterparts. My one complaint about the book is that parts seem to be padding. Nevertheless, there is not too much padding, and the whole is well worth reading.