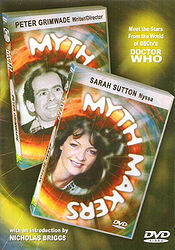 Edition:
UK (DVD)
Released:
May 2005

Publisher:
Reeltime Pictures
Format:
1 x DVD
Owned:
Buy:
Note: Region 2+4 DVD.
Cover blurb:
DOUBLE THE VALUE!
SARAH SUTTON — Nyssa
"'Why did you take your skirt off?' Because I was told to! JNT said: 'You have a stomach ache and you take your skirt off.' So that's what I did!"
This MYTH MAKERS combines two interviews with SARAH SUTTON; one filmed at Harrison's Rocks, the main location for CATSROVALVA; the second recorded in a London studio eight years later and featuring some familiar monsters.
SARAH chats to NICHOLAS BRIGGS about working with TOM BAKER, PETER DAVISON, JANET FIELDING and MATTHEW WATERHOUSE. There are also many behind-the-scenes stories about working on DOCTOR WHO.
PETER GRIMWADE — Writer/Director
"If you had twice as much money you'd still want twice as much again."
PETER GRIMWADE started his career at the BBC as a production assistant and worked on three JON PERTWEE DOCTOR WHO stories. He went on to direct DOCTOR WHO in the early 1980s — with LOGOPOLIS and EARTHSHOCK winning major fan awards. He then moved on to writing with MAWDRYN UNDEAD and PLANET OF FIRE which he successfully novelised for Virgin Publishing.
PETER died in 1990, cutting short a promising career. This MYTH MAKERS release is dedicated to him.
SPECIAL FEATURES
Introduction by NICHOLAS BRIGGS and KEITH BARNFATHER.
Biography of all featured artists.