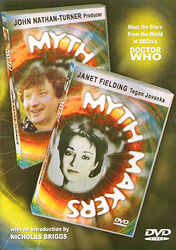 Description: DVD re-release of two interviews that were originally released separately: Myth Makers: Janet Fielding and Myth Makers: John Nathan-Turner.
Cover blurb:
DOUBLE THE VALUE!
JANET FIELDING — Tegan Jovanka
"I think that the series doesn't have a life any more... the role models that it presented for young girls was just appalling."
JANET FIELDING's portrayal of the loud-mouthed brassy Australian air hostess TEGAN JOVANKA made her one of the most memorable assistants to have travelled with DOCTOR WHO.
This MYTH MAKERS combines an interview by NICHOLAS BRIGGS in 1985 with highlights from JANET's appearances at conventions. It gives a unique insight into how JANET has developed and changed her views since she left the series.
JOHN NATHAN-TURNER — Producer
"I consider myself to be a hands-on producer."
JOHN NATHAN-TURNER was the longest serving and probably the most well known producer DOCTOR WHO has had. From TOM BAKER to SYLVESTER McCOY, JOHN oversaw one of the most controversial periods in the programme's history.
At locations used for THE CURSE OF FENRIC, JOHN chats to NICHOLAS BRIGGS about his career and puts the record straight about the reasons behind DOCTOR WHO's cancellation. JOHN died in May 2002 and this release is dedicated to him.
SPECIAL FEATURES
Introduction by NICHOLAS BRIGGS and KEITH BARNFATHER.
Biography of all featured artists.