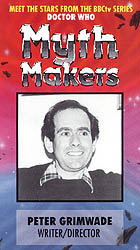 Edition:
UK (2nd VHS)
Released:
January 1994

Publisher:
Reeltime Pictures
Format:
1 x VHS PAL
Owned:
Buy:
Note: Extended edition.
Cover blurb:
"If you had twice as much money you'd still want twice as much again. I think Doctor Who has been pared down enormously over the years."
Peter Grimwade started his career at the BBC as a production assistant during the early seventies and worked on several of Jon Pertwee's Doctor Who adventures. He went on to become one of the leading directors of Doctor Who in the early eighties with stories like Logopolis and Earthshock receiving major fan awards.
He then moved successfully into script-writing and contributed stories like Mawdryn Undead and Planet of Fire to the series he then revealed a further talent when he novelised his scripts for Virgin's range of Doctor Who paperbacks.
His tragic death in 1990 cut short a distinguished and varied career, leaving us wondering what Peter may have gone on to achieve given the opportunity.
This is an extended version of the Myth Makers interview recorded in 1987, incorporating previously unseen footage and readings by Sarah Sutton.