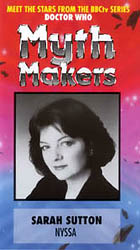 Edition:
UK (2nd VHS)
Released:
January 1994

Publisher:
Reeltime Pictures
Format:
1 x VHS PAL
Owned:
Buy:
Note: Extended edition.
Cover blurb:
"Everyone brings this up, 'Why did you take your skirt off?' Basically because I was told to. The producer said, 'You have a stomach ache and you take your skirt off.' So that's what I did!"
So, for starters, we know why Nyssa lost her skirt, but why did Peter Davison ask Sarah Sutton for a Big Mac and milkshake?
This Myth Makers combines two interviews with Sarah, one shot in 1986 at Harrison's Rocks, the main location for the story Castrovalva and the second, recorded in our studios eight years later, features more revelations and some very familiar Doctor Who monsters...
There is a main course of recollections about working on Doctor Who, memories of Tom Baker, Peter Davison, Janet Fielding and Matthew Waterhouse, as well as numerous behind the scenes anecdotes and stories.
To finish, we discover why Sarah wanted to fly in a hot-air balloon, the impact of having a young daughter has on her life, and we learn precisely why she sent Nicholas Briggs rock climbing!