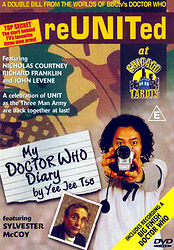 Note: Region 2+4 DVD. Compilation of two documentaries which were originally released separately on video: ReUNITed and My Doctor Who Diary. ReUNITed was re-released again in 2017 as part of the Wartime Chronicles DVD compilation.
Cover blurb:
MY DOCTOR WHO DIARY by YEE JEE TSO
It seemed like a great idea! Yee Jee recording a video diary during his first signing tour of the UK.
But after a gruelling flight over and jumping into a car to be at MEMORABILIA the same day — all he wanted to do was sleep, not record a diary!
But he stuck with it, through signings, two long studio sessions with BIG FINISH and finally a photo call at BATTLEFIELD with SYLVESTER McCOY!
During all this, YEE JEE managed to record a highly personal video diary of his trip...
ReUNITed at CHICAGO TARDIS
It was an operation worthy of UNIT itself... bringing the Brigadier (Nicholas Courtney), Captain Yates (Richard Franklin) and RSM Benton (John Levene) back together again at CHICAGO TARDIS.
In this production we tear through the red tape to cover the convention and also to talk to KATY MANNING, JON PERTWEE, TERRANCE DICKS, GARY RUSSELL, J JEREMY BENTHAM and many more about the secret behind UNIT's success.
Splendid chaps (and ladies) all of them...!