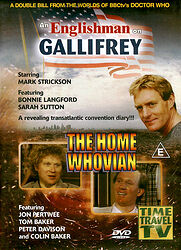 Note: Region 2 DVD. Compilation of two documentaries which were originally released separately on video: An Englishman on Gallifrey and The Home Whovian.
Cover blurb:
An Englishman on Gallifrey
Here, for the very first time, we reveal how a convention looks from the other side of the stage — from the "star's" point of view.
Armed with his own home video camera (and trailed by the intrepid Reeltime crew), MARK STRICKSON sets off from deepest rural England on an odyssey of adventure across the Atlantic to the Airtel Plaza Hotel in Los Angeles, the venue for "the twelfth regeneration of Gallifrey One"... confusing name but nonetheless one of America's leading DOCTOR WHO conventions.
Don't miss this totally unique "up-front and personal" video diary of the trials an [sic] tribulations of being an Englishman on Gallifrey!
Time Travel TV
In the 1980's US public television station New Jersey Network produced some groundbreaking documentaries about DOCTOR WHO following the programme's huge success in America.
THE HOME WHOVIAN was planned to be the first in a series of video releases in the USA featuring interviews with the stars of DOCTOR WHO. In the event it proved to be a one-off.
Featuring interviews with JON PERTWEE, TOM BAKER, PETER DAVISON, COLIN BAKER and JOHN NATHAN-TURNER. Unique material from a unique moment in Time Travel TV — when Doctor Who conquered America!