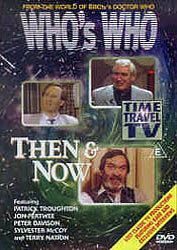 Note: Region 2 DVD. Compilation of two documentaries which were originally released separately on video: Who's Who and Then & Now.
Cover blurb:
TWO TITLES ON ONE DVD!
In the 1980's US public television station New Jersey Network produced some groundbreaking documentaries about DOCTOR WHO following the programme's huge success in America.
WHO'S WHO
Starring:
JON PERTWEE
TOM BAKER
PETER DAVISON
COLIN BAKER
A galaxy of rare and exclusive interviews with the stars of DOCTOR WHO!
Recorded around the Philadelphia's Creation Convention in 1984, it features a fascinating stage performance by TOM BAKER plus unique interviews with JON PERTWEE, PETER DAVISON and COLIN BAKER.
Also featured are MARY TAMM, TERRANCE DICKS, LOUISE JAMESON, MATTHEW WATERHOUSE, JOHN NATHAN-TURNER and — amazingly — author ISSAC ASIMOV and STAR TREK's GEORGE TAKEI !!
THEN & NOW
Featuring:
TERRY NATION
PATRICK TROUGHTON
SYLVESTER McCOY
CAROLE ANN FORD
BONNIE LANGFORD
JOHN NATHAN-TURNER
A lost classic TV production featuring rare and exclusive interviews!
Presented by ERIC LUSKIN and recorded in the NJN studios it features unique interviews with TERRY NATION talking about the creation of the Daleks and PATRICK TROUGHTON discussing his portrayal of the Second Doctor.
Also featured are SYLVESTER McCOY, CAROLE ANN FORD, BONNIE LANGFORD and JOHN NATHAN-TURNER.
This is classic Time Travel TV! Jump on board!