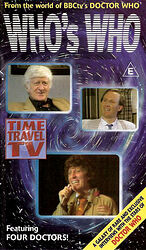 Edition:
UK (VHS)
Released:
January 2001

Publisher:
Reeltime Pictures
Format:
1 x VHS PAL
Owned:
Buy:
Cover blurb:
In the 1980's US public television station New Jersey Network produced some groundbreaking documentaries about DOCTOR WHO, following the huge success of the programme in America.
WHO'S WHO was transmitted in 1985. Recorded around the 1984 Creation Convention in Philadelphia, it features an absorbing stage performance by TOM BAKER plus unique interviews with JON PERTWEE, PETER DAVISON and COLIN BAKER.
Also featured are MARY TAMM, TERRANCE DICKS, LOUISE JAMESON, MATTHEW WATERHOUSE, JOHN NATHAN-TURNER and — amazingly — author ISSAC ASIMOV plus STAR TREK'S GEORGE TAKEI !!
This is a fascinating look at DOCTOR WHO from an American perspective in the 1980's... it's classic Time Travel TV!!