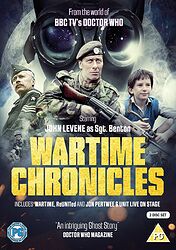 Note: Region 0 NTSC disc (designed to be playable anywhere in the world). DVD compilation featuring the spin-off drama Wartime, the documentary reUNITed and convention footage of the UNIT team from PanoptiCon VII in 1986.
Cover blurb:
WARTIME stars JOHN LEVENE reprising his role from DOCTOR WHO as Sergeant John Benton.
During all his years working for the United Nations Intelligence Taskforce (UNIT), Benton never failed in his duty — but once, long ago, he did. While on a seemingly routine delivery run for The Brigadier, he finds himself close to his childhood home — where ghosts from his past have never rested easily ...
Trapped in a nightmare world, where past and present seem as one, will he be lost forever or can he fight his way back to reality? A reality where he is desperately needed!
This 2 DISC special collector's edition, features WARTIME, a package of behind-the-scenes material, a brand new introduction bu Katy Manning (Jo Grant) and Producer Keith Barnfather, plus two bonus documentaries ... ReUNITed (a history of UNIT) and JON PERTWEE & UNIT LIVE ON STAGE (an entertaining convention panel featuring Jon Pertwee and the UNIT team).
Sergeant Benton himself would be proud!
Special Features
Introduction
Wartime in Perspective
Wartime Picture Gallery
ReUNITed
Jon Pertwee & UNIT Live on Stage