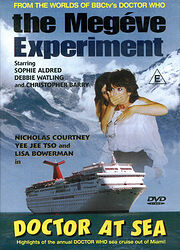 Note: Region 2+4 DVD-R. Compilation of two documentaries which were originally released separately on video: The Megéve Experiment and Doctor At Sea.
Cover blurb:
The Megéve Experiment
In July 2002, an experiment took place... two DOCTOR WHO actors, SOPHIE ALDRED and DEBORAH WATLING, travelled to France with Director CHRISTOPHER BARRY and tutor BEVERLEY CRESSMAN, on a trip to educate, instruct and entertain a group of fans.
During the following week six DOCTOR WHO fans learnt how to use their own talents to act for the theatre and screen... and during the process they had a great deal of fun! The culmination was a dramatised rehearsal, directed by CHRISTOPHER, where everyone got to perform in from of the camera and for the first time VICTORIA and ACE met!
Is this indeed FULL CIRCLE? DOCTOR WHO professionals teaching fans how to act? Was this a successful experiment? You bet it was!
The Megeve Experiment was organised by Nextstage who can be contacted on 020 8378 0763 or info@nextstagedrama.com
Doctor At Sea
Since 1988 a curious DOCTOR WHO event has been taking place. Almost unnoticed by fandom in general, Dan Harris has been quietly organising cruises around the coast of America with fans and stars from DOCTOR WHO — this must surely be the most obscure and unique fan activity of all!
Join the intrepid Reeltime crew as we board the good ship Fascination with NICHOLAS COURTNEY, YEE JEE TSO and LISA BOWERMAN as it leaves Miami on it's [sic] way across the Gulf of Mexico.
Somehow in this totally unique video (between trips on a glass bottom boat and to the Mayan ruins at Tulum) we manage to... squeeze in a Writers Workshop with GARY RUSSELL, STEPHEN COLE and SIMON GERARD... chat to the stars and fans about why they signed up... and include highlights of previous cruises.