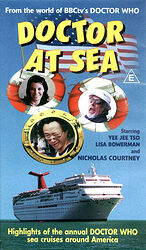 Edition:
UK (VHS)
Released:
March 2002

Publisher:
Reeltime Pictures
Format:
1 x VHS PAL
Owned:
Buy:
Cover blurb:
Highlights of the annual DOCTOR WHO sea cruise out of Miami!
Since 1988 a curious DOCTOR WHO event has been taking place. Almost unnoticed by fandom in general, Dan Harris has been quietly organising cruises around the coast of America with the stars from DOCTOR WHO and small groups of dedicated fans.
DOCTOR WHO has inspired a never ending plethora of fan activities — but this must surely be the most obscure and unique of all!
Join the intrepid Reeltime crew as we board the good ship Fascination with NICHOLAS COURTNEY, YEE JEE TSO and LISA BOWERMAN as it leaves Miami and stops off at Key West on its way to Playa del Carmen across the Gulf of Mexico.
Somehow in this totally unique video (between trips on a glass bottom boat and to the Mayan ruins at Tulum) we manage to... squeeze in a Writers Workshop with GARY RUSSELL, STEPHEN COLE and SIMON GERARD... chat to the stars and fans about why they signed up... and include highlights of previous cruises.
Is this truly the ultimate DOCTOR WHO adventure you can have on Earth?