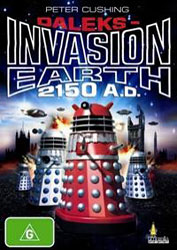 Edition:
Australia (DVD)
Released:
November 2012

Publisher:
Umbrella Entertainment
Format:
1 x DVD
Owned:
Buy:
Note: Region 4 disc. The sleeve describes the film as "the first-ever colour incarnation" when it course this was actually the second such film.
Cover blurb:
Get set to journey back in time to face the future all over again with one of the most esteemed sci-fi screen heroes of all, debonair humanoid and timelord extraordinaire — Dr. Who in DALEKS - INVASION EARTH 2150 A.D.
PETER CUSHING (Star Wars Epiode [sic] IV: A New Hope) takes to the TARDIS in this thrilling story of the Doctor's battle to save the human population of the future from being enslaved as Robomen. Doomed to serve the dreaded Daleks forever mining the Earth's core, the human race has never faced a greater danger than now and it is up to the intrepid Dr Who, with the assistance of the underground resistance movement, to prevent total Dalek domination bringing an end to civilisation as we know it.
Renowned as the first ever colour incarnation of the legendary doctor, this feature-length adventure, made by the famed British AMICUS production company, is a cult-classic — destined to keep the spirit of time-travel alive and ticking.
SPECIAL FEATURE
DALEKMANIA: The definitive Dalek documentary — 57 min