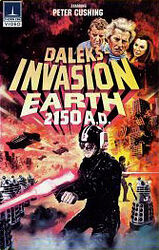 | | | |
| --- | --- | --- |
| | | |
| | Reviews for Daleks: Invasion Earth 2150 A.D. | |
| | | |
There are 2 reviews so far. To add a review of your own for this item, visit the voting page.
| | | |
| --- | --- | --- |
| | | |
| | The first episode I saw!!! | |
| | | |
By:
Toby, England
Date:
Friday 14 October 2005
Rating:
10
This was the first episode I saw. I was about 5 when I saw it. It still remains in my mind as one of the best in the series. Peter Cushing's doctor was one of the best. Still wish I could see the original but that does not matter because this is one of the best.
By:
Matthew David Rabjohns, Bridgend, United Kingdom
Date:
Saturday 16 October 2010
Rating:
10
I always thought that Peter Cushing would have made a brilliant Doctor Who. He has the acting brilliance to have portrayed such a powerful time lord. I am just glad he did make the two dalek films. They are both pretty excellent at capturing the feel of the TV serials they were based upon, but are both better than their TV counterparts in the fact they are shorter, better paced, and the characters are all very believable and convincingly portrayed along the way. Its not just because its had more money spent on it. Very rarely is a programme suscessful just due to the money thrown at it.

Daleks Invasion Earth 2150 AD has it all. And it presents are a far more satisfying end to the story for the main reason is here it is actually explained. Peter Cushing leads the cast excellently as Doctor Who. His grandfatherly figure is at times more easy to accept than Will Hartnell's more terse time lord. And another person who shines again here in this film is Roberta Toovey. I always loved her character when I was younger and I saw this film.

And the daleks here are very impressive. No casing coming apart and all that. And they actually have grippers too. That makes sense. Daleks couldnt exactly do a whole lot with just plungers, well at least not until now anyway. The supporting cast here are of a very high calibre too. Andrew Keir gives as polished a performance as ever. Maybe the only slight quibble about this film is Jill Curzon's role. She doesnt actually really do much in the story except run around and fall over.

But Bernard Cribbins is brilliant. His character is so well defined and executed. And the final scene is one of the best endings to any type of Who story ever. Although with proper modern logic one could argue where his first persona was when he returned at exactly the same time. But science fiction may not have been as broadly horizoned in those days, so it doesnt really matter one little bit.

Those two deceitful women at the cottage too are a memorable duo. So, all in all this film was excellently done. Its sad they never did come to be able to do a film of the Chase, I would have loved to have seen that. These films and the classic series of Doctor Who are on the whole better than a sizeable percentage of the new series of stories. This goes to proove to me that the oldies are always the best.....