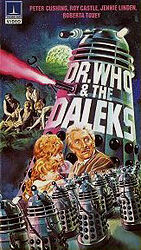 Edition:
UK (original VHS)
Released:
April 1982

Publisher:
Thorn EMI
Format:
1 x VHS PAL
Owned:
Buy:
Cover blurb:
Come aboard the Tardis! It may look like a police box from the outside, but step through the door and there's space enough for everybody to share in the fun and excitement of Dr. Who's first encounter with the Daleks.
When the BBC launched Terry Nation's Dr Who in 1963 it was regarded as an experimental fantasy adventure for children's Saturday teatime viewing. Nobody thought then that the series would run and run, winning devoted followers of all ages. Or that the pepperpot Daleks, rasping out threats to 'An-i-hil-ate' all and sundry, would prove so popular that they would still be returning to pursue their fruitless efforts to outsmart the Doctor when many of those first child-viewers had children of their own.
As we all know by now, Dr Who is a Time Lord who, every so often, vanishes into the Infinite to return totally changed in appearance and personality. This secret hadn't been revealed in 1965 when puzzled youngsters found him portrayed by Hammer Horror star, Peter Cushing, instead of by television's William Hartnell. Today's better-informed child can understand that he was wearing the identity of a dotty Grandfather when he invented the Tardis and first tangled with the Daleks. With the Doctor on this voyage through time and space are his little granddaughter Susie (Roberta Tovey), her sister Barbara (Jenny Linden) and accident-prone Ian (Roy Castle). It is Ian whose clumsiness sends them off to an unknown world devastated by radiation fall-out, but it is Susie who gets most of the brave and clever things to do when they are captured by the mean and murderous Daleks.
Meeting the metallic menaces again is a pleasurable experience for adults: a mixture of nostalgic affection and amusement. But this adventure, with its comic capers provided by Roy Castle, is particularly suitable for young children because it is never more than enjoyably scary.
MARJORIE BILBOW