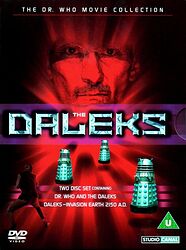 Edition:
UK (1st DVD)
Title:
The Daleks: The Dr Who Movie Collection
Released:
July 2002

Publisher:
Warner Home Video
Format:
2 x DVD
Owned:
Buy:
Note: This release was plagued with disc authoring issues — all affecting disc 1. Two different faulty versions were issued — one containing an audio problem making the sound very "echoey" and a second where the disc froze during chapter 16. When Warner Home Video were made aware of these problems, they issued a third version which fixed both problems and offered a free disc exchange via post to purchasers of the earlier versions.
Cover blurb:
The legendary Peter Cushing stars in the first thrilling big screen adventures of the beloved BBC serial that captured the imagination of the world. The Dr. Who DVD Collection not only includes 2 feature length films but Dalekmania, a fascinating and comprehensive documentary that captures the remarkable Dr. Who phenomenon at its swinging '60s peak!
DISC 1
Dr. Who and the Daleks
The Doctor travels through time and space in his TARDIS to Skaro, birthplace of the terrifying metal monsters, the Daleks! Skaro is a planet devastated by radioactive fallout, where the hideously mutated Daleks, safe in their metal city, plot to exterminate their age-old adversaries, the Thals, with a massive neutron bomb. Only the Doctor can save them!
DISC 2
Daleks - Invasion Earth 2150 A.D.
Dr. Who is transported by the TARDIS to a desolated future Earth under cosmic attack by the vengeful Daleks. Whole continents have been wiped out and humans turned into Robomen — living dead slaves! Only the underground resistance movement stands in the way of total Dalek control and extermination!