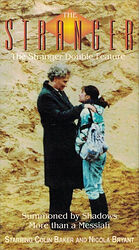 Released between 1991 and 1995, The Stranger was a series of six straight-to-video dramas produced by British company BBV (Bill and Ben Video).

This series was not strictly speaking a Doctor Who spin-off, however clearly it was intended to appeal directly to Who fans: initial instalments starred Colin Baker as the mysterious character "The Stranger" and Nicola Bryant as his companion "Miss Brown" — any similarity to The Doctor and Peri Brown is of course purely coincidental!

Later entries in the series eroded the Who connection somewhat, with Nicola Bryant no longer appearing after the third volume, and around the same time, The Stranger's real name and backstory was revealed — in reality he was Soloman, a former terrorist leader whose memory had been wiped.

Two audio drama spinoffs were also released on cassette in 1994 (both re-released on CD in 1999): The Stranger Chronicles: The Last Mission and The Stranger Chronicles: Eye of the Storm.

| | | |
| --- | --- | --- |
| | | |
No:
Title:
Starring:
By:
Edition:
Date:
Publisher:
Owned:
Rating:
Reviews:
1
Summoned by Shadows
Colin Baker & Nicola Bryant
Christian Darkin
UK original VHS
Jan 1991
BBV
6.5
US VHS
Dec 1991
DHI Home Video
UK reissue VHS
Jun 2000
Reeltime Pictures
UK DVD
Mar 2003
BBV
2
More Than a Messiah
Colin Baker, Nicola Bryant, Sophie Aldred & Peter Miles
Nigel Fairs
UK original VHS
Jan 1992
BBV
7.1
None
US VHS
Dec 1992
DHI Home Video
UK reissue VHS
Jun 2000
Reeltime Pictures
UK DVD
Jun 2003
BBV
3
In Memory Alone
Colin Baker, Nicola Bryant & Nicholas Briggs
Nicholas Briggs
UK original VHS
Jan 1993
BBV
8
None
UK reissue 1 VHS
Aug 1993
Pickwick
Australia VHS
Aug 1993
Pickwick
US VHS
Aug 1995
S & J Video
UK reissue 2 VHS
Jun 2000
Reeltime Pictures
UK DVD
Jun 2005
BBV
4
The Stranger: Volume One
Colin Baker & Nicola Bryant
Christian Darkin
UK VHS
Aug 1993
Pickwick
None
None
Australia VHS
Aug 1993
Pickwick
US 1st VHS
Dec 1994 (Date unconfirmed)
S & J Video
US 2nd VHS
Jan 1996 (Date unconfirmed)
S & J Video
5
The Stranger: The Terror Game
Colin Baker, Louise Jameson, David Troughton & John Wadmore
Nicholas Briggs
UK original VHS
Jan 1994
BBV
6.7
None
UK reissue 1 VHS
Aug 1995
Carlton
US VHS
Aug 1995
Central Park Media
UK reissue 2 VHS
Jun 2000
Reeltime Pictures
UK DVD
Aug 2005
BBV
6
Breach of the Peace
Colin Baker, David Troughton, Caroline John & Nicholas Briggs
Nicholas Briggs
UK original VHS
Dec 1994 (Date unconfirmed)
BBV
6
None
US VHS
Dec 1994
S & J Video
UK reissue 1 VHS
Aug 1995
Carlton
UK reissue 2 VHS
Jun 2000
Reeltime Pictures
UK DVD
Oct 2006
BBV
7
Stranger VI: Eye of the Beholder - Part 1
Colin Baker & David Troughton
Nicholas Briggs
UK Part 1 VHS
Jul 1995
BBV
3.8
None
UK Part 2 VHS
Jul 1995
BBV
US Part 1 VHS
Aug 1995
Central Park Media
US Part 2 VHS
Aug 1995
Central Park Media
UK reissue 1 VHS
Jan 1997
Reeltime Pictures
UK reissue 2 VHS
Aug 2000
Reeltime Pictures
UK DVD
Feb 2007
BBV



Active session = no / Cookie = no