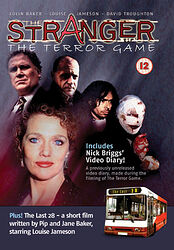 Edition:
UK (DVD)
Released:
August 2005

Publisher:
BBV
Format:
1 x DVD
Owned:
Buy:
Note: Region 0 double-sided DVD: PAL on one side of the disc, NTSC on the other.
Cover blurb:
At the dramatic climax of IN MEMORY ALONE, the Stranger made a desperate bid to escape from an alien environment. Unsure of his own identity, he submitted himself to a process which promised to put "everything in its proper place".
But where is the Stranger's "proper place"? Just who is the Stranger?
After materialising in an alley behind a seedy night-club, the Stranger begins piecing together his fragmented past. As the disturbing evidence gathers and the memories return, it occurs to him that the hidden terrors of his previouslife [sic] may be best left forever concealed.
In addition to this exciting main feature, this DVD come [sic] with a special "video diary" recorded during filming by author Nicholas Briggs. He manages to capture the jolly atmosphere on and off set and chats candidly to the cast about the trials and tribulations of filming low budget...
THE LAST 28
May (Louise Jameson) lives alone, but tonight she's expecting a visitor. We travel with MAY through an evening of self discovery and disapointment [sic] as she waits for the Last 28 to arrive.
Written by Pip & Jane Baker and directed by Bill Baggs, THE LAST 28 was filmed in 1998 on super 16mm. It has not been released previously and was originally aimed at attracting attention from the film festival market.